Working in Australia
The Most Effective Ways to Find a Job in Australia
Australia is one of the most beautiful countries in the world and boasts a fantastic Skilled Migration Program:
Brand New EBook by RedStarResume!
The Ultimate Australian Job Search Handbook - Everything You Need To Find Job Success In Australia Including:
Australian Resume Writing

The Australian Job Market

Job Search Tactics

Preparing To Find a Job In Australia

Types of Interview Questions

Job Interviewing Tips & Secrets

How To Answer Tough Job Interview Questions

Networking

Creating A LinkedIn Profile

Australian Recruitment Agents
Click Below to purchase your copy of the Ultimate Australian Job Search Handbook: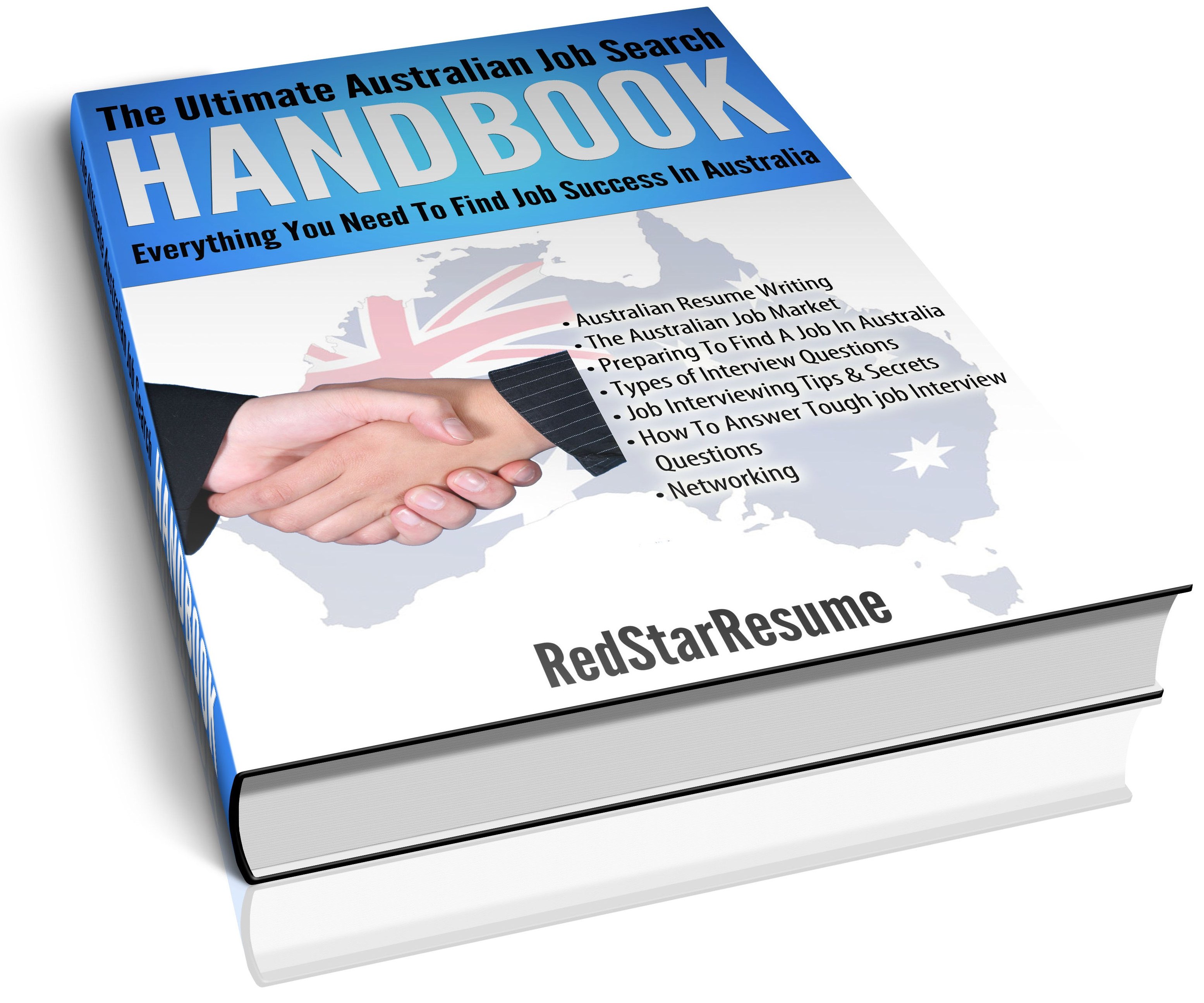 Click Below to read tips on working and living in Australia:
How do Australian Resumes differ from those of other countries?
How to Get Ahead in the Australian Job Market
How to Find an Australian Recruiter
Have your resume written by leading Australian Resume Writers
Open Your Australian Bank Account Before You Leave Home - Find Out How

Skilled Migrant Jobs: The world's new job site connecting business with skilled overseas talent
Looking for a job in Australia?
SkilledMigrantJobs.com is a new niche job site, proudly sponsored by NAB. It's designed to connect you with businesses in Australia that are willing and able to employ non-residents, as well as providing sponsorship to the successful candidate if they require it. There is a diverse range of jobs advertised on the site. To find out more, review jobs and register your CV/resume please visit SkilledMigrantJobs.com.


Do you have a friend, partner or family member who is currently trying to move to Australia?
Help them find success with a RedStarResume Gift Voucher!
Moving to Australia? Check out Moving2Plan: www.moving2plan.com.au
Try their unique online relocation tool that professionally guides people moving to Australia.
Use the Discount Code REDSTAR at checkout and receive a 30% discount off the Price!! - Click here to read more information

Click the icon below to learn more about the RedStarResume - Resume Distribution Service
Australian Resume Writing
Do you need an Australian Resume Writer with an in depth knowledge of the Australian job market who can construct your professional resume specifically for the Australian job market?
At RedStarResume we have writers to suit every job candidate's needs.
We can help you no matter where you are located in Australia. From working in the mines in Perth to working at an investment bank in Sydney, the team at RedStarResume will strategically target your resume to ensure that your application stands out from the crowd.
Why is the Australian Resume different?
All job markets around the world are unique in their own ways. The culture of a certain country plays a large part in how the job process works. In Australia, for example, it is neither necessary nor required to put a picture on your resume. Providing additional personal information such as date of birth, marital status, religion etc. is also very much discouraged. In order to write a good "Australian", resume you need to have an understanding of what the Australian employer is looking for in a resume.
Highlight Achievements in your Australian resume.
Recent reports have indicated that recruitment agents and hiring managers will only spend up to 15 seconds reading your resume before deciding to either read on or delete. Once the resume has been deleted there is no way for the reader to give the resume a second chance. The number one rule with your resume is to highlight your achievements. When you apply for a certain job you can expect that a large percentage of the candidates will share relatively the same skills and education as you. In order to stand out above the competition you need to highlight your achievements and show the reader where you can specifically add value to their business.
Top 5 tips to ensure your new Australian resume is targeted toward the Australian Job Market:
Achievements are essential – Use examples to back up statements




Target your resume – Each time you apply for a job, ensure that your resume and cover letter is targeting that specific job.




Use correct "British English" – Words such as "realize" are spelt with a "z" using American English, but in Australia the "z" is replaced with an "s" – "Realise"




No picture or unnecessary personal information




Use strategic keywords (Strategic selection of keywords and phrases designed to highlight your resume and cover letter)



We have Resume Writers available in every major city throughout Australia
+Resume Writing Sydney +Resume Writing ACT +Resume Writing Melbourne +Resume Writing Adelaide
+Resume Writing Perth +Resume Writing Brisbane +Resume Writing Northern Territory
Choose an icon below and select your experience level to get started:

Tips on finding a job in Australia:
Finding A Job Without Local Experience
Moving to Australia ... How do Australian Resumes differ from other countries?
How to Avoid Spelling and Grammar Mistakes on Your Resume
Tips on how to get your resume noticed
Is Your Resume Preventing You From Getting A New Job?
Job Interview First Impressions
Situational Job Interview Questions
Your Cover Letter is just as important as Your Resume!
10 Tips to staying positive while looking for a job
Tips on Keeping the Job - Maintaining a Professional Image
How Far Back Should Your Resume Go?
How do we know what questions are going to be asked in the job interview?
Top 10 Australian Job Boards:
---