Is Higher Education Right for You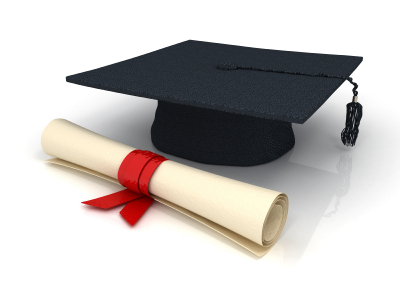 It used to be that having a college degree could land you a job in the majority of career fields. As bachelor's degrees become more and more common, however, and the competition for jobs grow, a lot of employers are now looking for more advanced and specialized degrees. For some occupations such as medical physicians, specialists and law professionals, you need an advanced degree even for entry level positions. That being said, going for post-graduate studies such as a Master's degree, MBA, JD, MD or PhD can be costly and time-consuming. You should evaluate your motives for pursuing higher education and see if the pay-off is worth it to you in the long run. Think about the following questions to see if higher education is right for you.
What are your career goals and how will higher education help you to get there? It's important to know specifically what your career goals are in pursuing graduate studies. Due to the tough job market, it's tempting to go back to school with the expectation that an advanced degree will make it easier to land a job. Unfortunately this isn't always the case and you will most likely end up with higher debt to pay for the degree, so it's important to have a real understanding of where you want your advanced degree to lead you.
Will graduate school pay off? In some industries, having a graduate degree will make your earning potential significantly higher, while other degrees won't yield as substantial an increase in pay. Research the types of positions you'll be looking at to see the rate for undergrad degree versus graduate degree. Make sure to factor in the amount it will cost for you to go to school for the degree to see if the increase in salary is worth the money you'll spend to attain it. For some it may be worth it to pursue a graduate degree even if the financial rewards aren't significant, but it's always best to know the situation before making a decision.
Should you go to graduate school immediately after completing your bachelor's degree? There are reasons for and against going for higher education right after earning your bachelor's degree. If you know that you definitely want/ need to go to a post-graduate program for the career you want and are in a financial position to continue on with school, you may want to go straight after your bachelor's. For some people, it's easier to go to graduate, law or medical school without a break when your study skills are sharp, you don't have growing obligations and you want to complete your studies sooner so you can focus on your career without having to worry about returning to school one day. On the other hand, waiting a few years before going to graduate school has its benefits. By taking some time off from school to gain real work experience, you'll be able to make a better judgment of the type of program you want to pursue and have a practical understanding of the field. Work experience will also help you to land a job once you graduate since you'll at least have some practical entry level experience in the field. In addition, some employers will actually pay for some or all of your graduate expenses and you will already have some financial stability.
© RedStarResume Publications – http://www.redstarresume.com
Amanda Ryan is a Program Development Associate & Senior Resume Writer at RedStarResume. Amanda is a highly skilled resume writing expert and career expert who also specialises in creating, writing and developing career content, working alongside student and graduate job seekers and developing career content for newsletters, partners and career websites.
Do you have a career related question? You can contact Amanda directly via the RedStarResume website!
---