First Steps Of Networking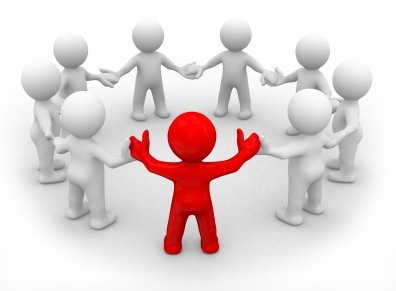 If you've started your job search or looked at career resources, you're probably hearing this word a lot—Networking. You may be thinking you don't know any professionals in the career that interests you, or find the task daunting. In reality, each of us already has networks that can help us in our career path and job search.
The first step to networking is to think about the people closest to you—your family and friends. These individuals are people you already talk to regularly and who can vouch for your character and work ethic. They're also the people that are most willing to put themselves out there for you by providing a reference for a position and contacts. Start brainstorming the people in your life that you talk to regularly, as well as their current employment positions. Then start talking to these people about the career that interests you, jobs that you're applying for, and ask for any advice or contacts they may have in the field that interests you. Even if no one you know personally works in the field, it may be that your close contacts have friends, colleagues, parents, etc. that are in the field you want to be in.
Think outside the box when networking. You may know people in your field that you don't even realize. They could be neighbors, family friends or someone you volunteered or went to school with in the past. The more people you talk to about the field you're interested in, the more opportunities you'll have to talk to professionals and gain insight into the career field, which may eventually lead to internship or job opportunities. Most people are happy to at least offer information and advice to students and recent grads about their field, so don't be afraid to ask questions.
Remember that landing a job is not the real goal of networking. Networking is about building professional relationships. These relationships can provide you with contacts and show you the skills, education and knowledge you'll need for success in the field. Over time your networks can help you build friendships, gain knowledge and experience and alert you to potential job opportunities. Keep in mind that networking is not a one-way-street. Just as you hope to network with people having more experience than you do, you should also be ready to network or serve as a mentor to younger students and colleagues. Professional networks, like personal ones are built on reciprocity. Remember to show gratitude if someone refers you to a contact, job or internship opening, or simply takes the time out of their busy schedule to talk to you about their career. In return, you should be ready to share your knowledge and appropriate contacts with others.
Being a student or recent grad is the most difficult time to network. As you start working in your career, you'll meet colleagues in your own company as well as others in the field. Soon you won't even need to worry about networking; you'll be doing it without even thinking!
© RedStarResume Publications – http://www.redstarresume.com
Amanda Ryan is a Program Development Associate & Senior Resume Writer at RedStarResume. Amanda is a highly skilled resume writing expert and career expert who also specialises in creating, writing and developing career content, working alongside student and graduate job seekers and developing career content for newsletters, partners and career websites.
Do you have a career related question? You can contact Amanda directly via the RedStarResume website! Click Here
---