"Australian Recognised Resume Writing Experts – Specialising in Developing High Impact Resumes"
For the past decade, the team at RedStarResume has been creating award winning resumes that get noticed by hiring managers. Under our guidance, our clients have achieved successes in over 35 different industries. From the college student looking to break into his or her first job to the seasoned professional and CEO level candidate, our custom-made, high impact resumes are written specifically to match the goals and objectives of our clients.
The RedStarResume team are not just resume writing experts. We are so much more. Our backgrounds are in Human Resources, Recruitment, Headhunting, Hiring and Career Consulting. We work side by side with our customers throughout the job search process. Our success is based on building a culture of high performance and continuous training. Our commitment to client satisfaction is unmatched by any other resume company.
Every resume begins with a blank piece of paper. As the customer, you have 24/7 access to your own personal writer and our 100% customer satisfaction guarantee. If you're not completely satisfied with your new resume, we promise to tear up the resume and start again. That is our commitment to you
About the Founder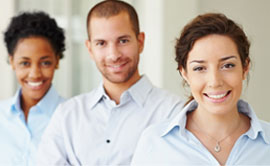 An internationally recognized and respected career expert, Gavin Redelman splits his time between the USA and Australia. Known as a career strategist and master of "Achievement Based" resume writing, Gavin is also a prolific blogger and writer and has had articles published around the world in newspapers, journals, student and graduate publications and magazines, and recently published his 6th career EBook.
With a love for what he does, Gavin and his team of writers are passionate about providing every customer with the ultimate first class-treatment and ensuring that their new resumes will open doors and opportunities for their clients.
Gavin is also the founder of White Knight Content Marketing, a content marketing website that provides content solutions to small and large websites.
Our resumes have helped our customers gain employment at many leading national and global firms: Let the team at RedStarResume help you find your dream job today!